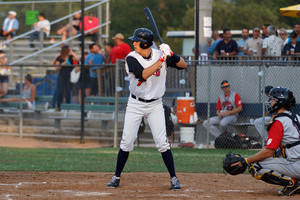 The Victoria Generals offense pounded out 15 hits on Saturday afternoon on their way to a 12-3 win over the McKinney Marshals at Jesuit High School in Dallas.
The Generals jumped out to an early 2-0 lead as Andrew Stumph delivered his first hit in a Generals uniform in the top of the first inning to plate Chad Kruse and Jude Vidrine.
In the top of the fifth, the Generals made it 5-0 on a three-run home run by Vidrine, his third of the season tying him for the league lead.
Carter Mangum would make it 6-0 on an RBI double to score Trent Wagner who had reached on an error and stolen second base.
Generals starter Covey Morrow cruised through his first five innings of work, setting the Marshals down in order while facing the minimum number of hitters through the first 18 batters of the game. He allowed two hits through those first five innings, erasing one of them on a double play ball and the other on a pickoff.
Morrow ran into a little trouble in the sixth inning as the Marshals scored twice in the frame. Wes Jones hit a sacrifice fly to center and KJ Alexander had an RBI double to cut the Generals lead to 6-2.
Morrow's final line on the day was two runs on five hits with four strikeouts in seven innings to pick up his fourth win of the season, tying him for the league lead.
The Generals offense put the game out of reach in the ninth inning by scoring six more runs. Stumph got the scoring going with an RBI double to score Kruse. After loading the bases, Wagner singled home Stumph before Mangum drew a walk to score Trace Knoblauch. Billy Richard then delivered a bases-clearing double for three RBIs to make the score 12-2.
Kyle Chaskin came on and pitched the final two innings, allowing just one run on three hits to make the final score 12-3.
Chad Kruse went 5-for-6 in the game to lead the Generals offensive attack. He also scored three runs. Richard, Stumph, Knoblauch, and Wagner each had two hits apiece.
With the win the Generals improved to 16-8 on the season and remain in second place in the TCL standings. The Marshals fell to 4-19.
The two teams will meet again for game two of the series on Sunday afternoon at 2:00pm at Jesuit High School in Dallas.
Box Score: http://tcl-generals.bbstats.pointstreak.com/boxscore.html?gameid=91282