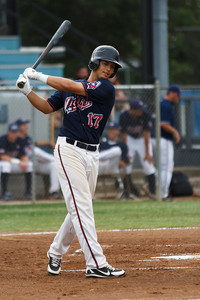 The Brazos Valley Bombers had won the first five matchups against the Victoria Generals so far this summer during the 2012 Texas Collegiate League season. And it looked like they were going to make it six straight on Tuesday night in Bryan. However, the Generals had other plans. Trailing 8-6 headed into the top of the ninth inning, the Generals made a valiant comeback, scoring six runs in the inning to win the game 12-8.
In the ninth, Jude Vidrine led off with a double and advanced to third on a wild pitch. After a ground out, Kevin Daniels picked up his fourth hit of the night, an infield single to the first baseman. Brandon Tierney was then hit by a pitch to load the bases. Trace Knoblauch walked to make the score 8-7. Alex Klonowski then drilled a single back up the middle to score Daniels and tie the game up.
Patrick Duncan came on as a pinch hitter and hit a ground ball up the middle for an infield single. The Bombers shortstop threw the ball away on the play which allowed an additional run to score, making it 10-8. After a walk by Trent Wagner, Chad Kruse grounded into a fielder's choice to plate another run. An overthrow by the shortstop allowed Klonowski to score, making it 12-8.
Dallas Ponder picked up the win in relief for the Generals, his second of the season. Ponder struck out six batters in three innings of work.
Kevin Daniels led the Generals offensively, going 4-for-5 on the night with three runs scored. Jude Vidrine and Alex Klonowski each had three hits as well.
The Generals improved to 13-8 on the season as the Bombers fell to 14-7.
The Generals will have an off-day on Wednesday before returning to Bryan on Thursday night for another game against the Bombers at 7:05pm.
Box Score: http://tcl-generals.bbstats.pointstreak.com/boxscore.html?gameid=91270