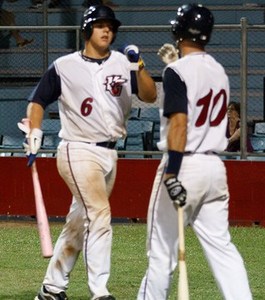 The Victoria Generals capped off their five-game home stand with a 8-3 win over the Woodlands Strykers on Tuesday night. It also completed a two-game series sweep after the Generals won game one on Monday night 4-3.
The Generals posted two crooked numbers in the second and third innings to put the game out of reach. Blue Hybner launched his second home run of the season, a three-run shot to left-centerfield, to give the Generals a 3-0 lead in the second inning.
The Generals then went onto score five runs in the bottom half of the third. With the bases loaded, Eric Weiss drilled a double off the centerfield wall to score to Kevin Daniels and Chad Kruse. Trace Knoblauch then singled home both Jude Vidrine and Weiss. Knoblauch came around to score later in the inning on a botched pickoff attempt to make the score 8-0.
That was plenty of run support for Generals starting pitcher Alex Klonowski who threw five innings and allowed just one run on four hits while striking out four batters to pick up his first win of the season.
Kyle Chaskin gave up a two-run home run to Michael Aquino in the eighth to make the score 8-3 before Dallas Ponder, who was recently named the TCL Pitcher of the Week for week two of the season, came on to pitch a scoreless eighth inning. Ponder walked one batter and struck out the other three he faced to retire the side.
Generals closer Tanner Green pitched a scoreless ninth inning despite it not being a save opportunity.
The Generals improved to 10-5 on the season as the Strykers fell to 4-11.
The Generals are off on Wednesday before hitting the road for a four-game road trip beginning on Thursday in East Texas against the Pump Jacks.
Box Score: http://tcl-generals.bbstats.pointstreak.com/boxscore.html?gameid=91247

Article: http://www.advosports.com/news/2012/jun/19/mf_generals_baseball_0620_179967/

Video: http://crossroadstoday.com/Generals-get-the-win-at-home/13493563