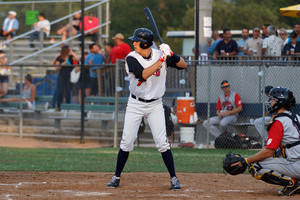 For the second straight night, the East Texas Pump Jacks jumped out to an early first inning lead over the Victoria Generals. But this time, the Generals offense answered back early and often, winning the game by a final score of 10-1.

The Pump Jacks scored a single run in the top of the first inning off of Generals starting pitcher Jeremy Flores, but that would be the only run the Pump Jacks would score on the night. Flores allowed just two hits in three innings pitched.

The Generals answered right back with two runs of their own in the bottom half of the first. The Generals loaded the bases before Jude Vidrine walked to plate the first run. Trent Wagner was then hit by a pitch the very next at bat allowing Rudy Flores to score.

The Generals tacked on three more runs in the third, the first coming on a solo home run by Jude Vidrine to deep right-centerfield, his first of the season. A dropped fly ball by the Pump Jacks right fielder allowed the other two runs to score in the inning.

The Generals made it 9-1 in the fourth inning. Eric Weiss singled home Billy Richard and Chad Kruse. Jude Vidrine drove home his third run of the night on a single that scored Rudy Flores. Trace Knoblauch singled later in the inning to drive home Eric Weiss.

Billy Richard capped off the Generals scoring for the night on a solo home run down the left-field line in the seventh.

The Generals offense collected 14 hits on the night while the pitching staff held the Pump Jacks to just four. Five different Generals had a multi-hit game.

Daniel Tunchez picked up the win in relief, throwing four innings without allowing a run. Tunchez surrendered just two hits on the night. Jake McMurtry made his first appearance of the season for the Generals, pitching the final two innings of the game and allowing just one hit.

The Generals improved to 6-4 on the season as the Pump Jacks fell to 7-2.

The Generals are off on Friday before hosting the Alexandria Aces in the first of five-straight home games. All games Friday through Tuesday begin at 7:05pm at Riverside Stadium in Victoria.

Box Score: http://tcl-generals.bbstats.pointstreak.com/boxscore.html?gameid=91230

Article: http://www.advosports.com/news/2012/jun/13/generals_061412_179445/

Video: http://crossroadstoday.com/General-Looks-To-Break-Slump/13434165

Video: http://crossroadstoday.com/Generals-Win-Big/13434257