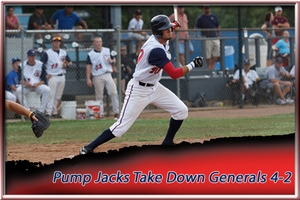 The Victoria Generals dropped their final game of a four-game road trip to the East Texas Pump Jacks on Tuesday night in Kilgore by a final score of 4-2. The Generals went 2-2 on the road over the course of the last four days and return home to take on the Pump Jacks at Riverside Stadium on Wednesday night at 7:05pm.
A shaky start for the Generals defense and four hits in the first inning by the Pump Jacks offense made the score 4-0 out of the gate.
The Generals cut the Pump Jack's lead in half in the top of the second inning. Rudy Flores and Eric Weiss led off with back-to-back singles. An error by the Pump Jacks shortstop and an RBI groundout by Trent Wagner allowed Flores and Weiss to come around to score.
Generals starting pitcher Tyler Schnuriger settled down after the first inning and did not allow a hit in his next three innings of work.
Tanner Green came on and set the Pump Jacks down in order in the fifth and sixth innings before allowing his first hit of the night in the seventh inning. It was the only hit the Pump Jacks recorded outside of their four-run first inning. Green also pitched a hitless eighth inning.
The Generals offense threatened several times throughout the night, but were never able to come up with the big hit to drive in runs as they left six men on base on the evening.
Rudy Flores led the Generals offensive attack with two hits on the night.
The Generals fell to 5-4 on the season as the Pump Jacks improved to 7-1.
The two teams will meet again on Wednesday night at Riverside Stadium in Victoria at 7:05pm. Wednesday night will be a $1 draft beer night on the 100.5 The Ranch Party Deck at the Generals game to make up for the lost Thirsty Thursday last week due to a rainout. It will also be a Margarita Wednesday which means margaritas will be $3 all game long on Wednesday night.
Box Score: http://tcl-generals.bbstats.pointstreak.com/boxscore.html?gameid=91227