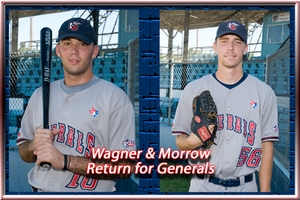 The Victoria Generals of the Texas Collegiate League have announced the addition of two returning players from 2011 to their 2012 roster. Outfielder Trent Wagner and left-handed closer Covey Morrow give the Generals two returning veterans who had successful seasons in the TCL last summer.
"We should have around 10 players returning from last summer's team," commented Victoria's general manager, Blake Koch. "Trent and Covey are just two of our talented players from a year ago that we expect big things from in 2012."
Trent Wagner, a junior outfielder at Texas A&M University – Kingsville, hit .274 for the Generals in 2011 with 10 doubles, two triples, three homeruns, and 35 RBIs. Wagner also walked 29 times, stole 22 bases, and scored 37 runs.
The 6'3, 200 pound Wagner is a native of Victoria and a former Memorial High School graduate.
"Trent is a tremendous athlete who had a breakout season last summer," said Koch. "Trent has caught the eyes of several scouts in the area recently because of his play."
Covey Morrow, a redshirt junior at Texas State University, set a TCL record for appearances in a season last summer with 30 as the Generals closer. Morrow posted a 2.68 ERA to go along with nine saves which was tied for second most in the league. Morrow struck out 34 batters in 37 innings while allowing just nine walks.
The 6'5", 190 pound Yoakum, Texas native also played for the Generals back in 2009 when he compiled a minuscule 0.60 ERA in 15 innings.
"Covey had a great summer last year coming off of an arm injury," stated Koch. "He was our most reliable arm out of the bullpen and should have another big season."
Season tickets for the Victoria Generals 2012 season are on sale now as the TCL plans to release its 2012 season schedule in the coming weeks. Fans can buy season tickets and team merchandise at the Generals team store located at 3708 North Navarro, Suite A in the Landmark Shopping Center, online at www.VictoriaGenerals.com, or by calling 361-485-9522.