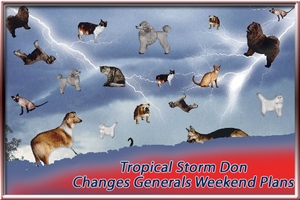 Due to the weather concerns surrounding Tropical Storm Don, the Victoria Generals and Brazos Valley Bombers have decided to change the schedule of their weekend series on Friday and Saturday in Victoria. The Bombers and Generals will now play a doubleheader starting at 5:00 on Friday, July 29 at Riverside Stadium in Victoria and will forgo playing on Saturday. The Friday doubleheader will consist of two seven-inning contests. Game two of the doubleheader will start approximately 30 minutes after the conclusion of game one.
The series was originally scheduled for a single game Friday at 7:05pm and a single game Saturday at 7:05pm.
All tickets to the Generals regularly scheduled home game on Saturday, July 30 will be honored at the gate at any of the Generals remaining home games during the 2011 season, starting with tonight's contest between the Generals and Alexandria Aces at 7:05pm at Riverside Stadium in Victoria.
Saturday's promotional event, Scout Night, will be rescheduled for a later date in the season which will be announced soon.