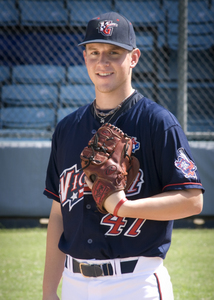 A night after the Victoria Generals pounded out 14 runs en route to a 14-4 win over the Acadiana Cane Cutters, the Cane Cutters responded with a 6-0 shutout win to split the two-game series in Lafayette.
Cane Cutters starting pitcher Troy Sutherland kept the Generals offense off-balance all night long as he picked up the win pitching seven innings, allowing just three hits while striking out seven.
Generals starter Sam Hanson struggled with his command right from the start. Hansen made it through just three innings, allowing five runs on three hits. Hansen walked six and struck out two.
Freddy Villalobos, Cody Abraham, and Grayson Porter each had a hit for the Generals.
Jared Hopper turned in a solid relief performance, pitching four innings and allowing just one run while scattering six hits and striking out five.
Alex Jack pitched a scoreless inning in the eighth.
The Generals fell to 17-20 on the season and 5-3 in the second half. The Cane Cutters improved to 19-16 overall and 4-4 in the second-half.
The Generals travel to Alexandria on Friday night for the first game of a two-game series against the Aces.
Box Score:
http://texascl.bbstats.pointstreak.com/boxscore.html?gameid=48439