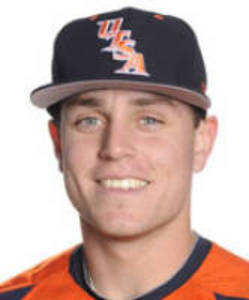 Trailing 4-3 on Wednesday night in Lafayette, the Victoria Generals posted nine runs in the top of the seventh inning and went on to defeat the Acadiana Cane Cutters by a final score of 14-4.
Despite an hour delay to start the game due to bus complications, the Generals came out swinging and posted two runs in the top of the first inning. Ryan Dalton blasted a two-run triple to score Chad Kruse and Trent Wagner.
The Cane Cutters answered in the bottom of the third inning, scoring four runs off of starting pitcher Michael Oros. Oros pitched five innings on the night, allowing four runs on eight hits while striking out four batters.
The Generals scored a single run in the sixth inning to cut the Cane Cutters lead to 4-3 when Wagner scored on a wild pitch.
The Generals then broke the game open with a nine run seventh inning. Jake Runte scored on the first of three errors in the inning by the Cane Cutters defense to tie the game at 4-4. Wagner then delivered an RBI single to score Kruse. Grayson Porter was hit by a pitch with the bases loaded to score Freddy Villalobos, Kyle Arnsberg delivered an RBI single to score Wagner, and Kevin Phillips drilled a bases loaded double down the left field line to score Dalton and Porter. Later in the inning Arnsberg scored on a fielder's choice before Villalobos hit a two-run double to plate Runte and Kruse.
Ethan Carnes picked up the win in relief for the Generals, pitching two innings and allowing no runs on three hits while striking out four. It was Carnes's first win of the season.
The Generals added two runs in the top of the ninth inning on a two-run double by Dalton. Dalton was the leading hitter for the Generals on the night, going 3 for 4 with a run scored and four RBIs.
The Generals improved to 17-19 on the season and 5-2 in the second-half. The Cane Cutters fell to 18-16 overall and 3-4 in the second-half.
The Generals and Cane Cutters will play game two of the two-game series in Lafayette on Thursday night. The Generals will then travel to Alexandria to take on the Aces in a two-game series on Friday and Saturday nights.
Box Score:
http://tcl-generals.bbstats.pointstreak.com/boxscore.html?gameid=48436
Article:
http://www.theadvertiser.com/article/20110714/SPORTS/107140338/Generals-pound-out-win-over-Cane-Cutters-14-4?odyssey=nav|head