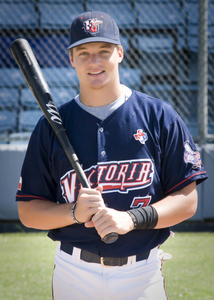 The Victoria Generals are currently 9-11 in the Texas Collegiate League standings, but are only 2.5 games out of first place. The Generals have 10 games left in the first-half to try to climb to the top and clinch a playoff spot by being one ofthe top two teams in the standings.
The Generals, who have been injury plagued for most of the first-half, have added two players to their roster to try to help push them to the top.
Conner Mach will be returning to Victoria for his second summer in a Generals uniform. Mach just finished his junior season at the University of Missouri and was recently drafted by the New York Yankees in the 46th round of the 2011 Major League Baseball draft.
Mach hit .295 with nine doubles, four home runs, 30 RBIs, and 21 runs scored to help lead the Generals to the 2010 TCL Championship last summer.
"The Yankees want to see Conner play a little more this summer before they decide anything on him," commented Blake Koch, Victoria's general manager. "Conner has the option of returning for his senior year at Missouri or signing with the Yankees. We're glad to give him a platform to showcase his skills here in Victoria."
This season at Missouri, Mach hit .285 with 12 doubles, one triple, four home runs, 32 RBIs, 31 runs scored, and 11 stolen bases while mostly leading off and playing left field. Despite being the lowest seed of the Big 12 tournament, Mach helped lead Missouri to the championship game. Mach hit a solo home run in the game, but Texas A&M University won the title in extra innings.
The Generals have also added Ryan Dalton, a third baseman from the University of Texas – San Antonio. Dalton was a consensus Freshman All-American and Southland Conference Freshman of the Year in 2010. The Sugar Land native tied for the league lead with a UTSA freshman-record 17 home runs and batted .305 with 51 RBIs. Dalton also had nine doubles, one triple, and 38 runs scored.
This past spring as a sophomore, Dalton hit .280 with seven doubles, three triples, 10 home runs, 49 RBIs, and 30 runs scored. For his efforts, Dalton was named to the All-Southland Conference Third Team as a third baseman.
Dalton started the summer with the Falmouth Commodores of the Cape Cod Baseball League on a temporary contract, but was let go after only four games. Dalton was hitting .143, going 2 for 14 with a double before being released.
"Dalton gives us another legitimate power bat in the middle of our lineup," stated Koch. "With the addition of Conner and Dalton, Coach Wagner now has a little bit more flexibility when filling out a lineup every night."
The Generals take on the East Texas Pump Jacks tonight in Kilgore at 7:05pm in the first game of a two-game series. Game two will be on Saturday night.
The Generals then return home on Monday, June 27 to take on the Acadiana Cane Cutters at 7:05pm at Riverside Stadium in Victoria. Both Mach and Dalton are expected to make their season debuts at home on Monday or Tuesday.
For news, merchandise, ticket information, and schedules, visit the Generals team store located at 3708 North Navarro Suite A in the Landmark Shopping Center, visit www.VictoriaGenerals.com, or call 361-485-9522.