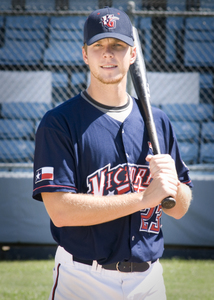 The Victoria Generals fell to 5-5 on the season with an 8-5 loss to the Brazos Valley Bombers on Saturday night.
The Bombers jumped out to an early 1-0 lead in the top of the first inning on an RBI single by Trey Porras off of Generals starter Blake Denman. Denman would pitch five innings on the night, surrendering five runs on five hits while striking out three.
The Generals answered back in the bottom of the first with four runs of their own. Freddy Villalobos blasted his third home run of the season, a two-run shot to left field. With the bases loaded later in the inning, John Longoria delivered a two-run single to center field.
The Bombers scored single runs in the second and third innings to make the score 4-3. The score stayed that way until the top of the sixth inning when the Bombers exploded for five runs.
Chad Kruse delivered an RBI single in the eighth inning to cut the Bombers lead to 8-5. The Generals threatened in the ninth, but were unable to score.
Chad Kruse was the leading hitter for the Generals, going 3-for-4 on the night with a run scored and an RBI. Kyle Arnsberg had two hits as well.