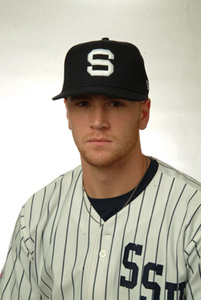 The Victoria Generals received yet another great outing from a starting pitcher on Tuesday night as Tyler Smith made his season debut for the Generals. Smith pitched seven innings on the night, allowing only three runs on five hits while striking out four batters to pick up the win.
The Generals got on the board in the top of the first when Cody Abraham led off with a walk, stole second base, advanced the third on a single by Chad Kruse, and then scored on a double steal.
The Pump Jacks responded to score single runs in the second, third, and fourth innings to take a 3-1 lead. The Generals answered back with two runs of their own in the fifth inning to tie things up at 3-3.
The Generals took the lead in the sixth on a sacrifice fly hit by Kruse to make the score 4-3.
In the top of the 8th inning, the Generals added three runs on an RBI single by Kruse and a two run single by Freddy Villalobos to take a 7-3 lead.
The Pump Jacks scratched out a run in the bottom of the eighth inning off of Generals relief pitcher Ross Speed to make the score 7-4.
In the top of the ninth, the Generals added two insurance runs courtesy of a two run single by Kevin Phillips to make the final score 9-4.
The Generals move to 4-2 on the season as the Pump Jacks fall to 2-4. The Generals will head to Alexandria, Louisiana on Wednesday to take on the Aces at 7:00pm in the first game of a two-game series.
The Generals will return home on Friday, June 10 to take on the Brazos Valley Bombers at 7:05pm at Riverside Stadium. It will be the third annual Diamonds on the Diamond event presented by Torin Bales Fine Jewelry that night. All women 18 years of age and older are encouraged to get to the park early to register for a chance to win diamonds from Torin Bales Fine Jewelry along with other great prizes.