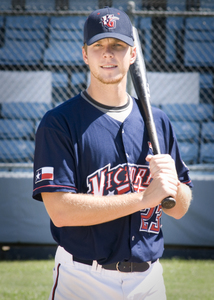 The Victoria Generals announced today that Kyle Arnsberg has signed to rejoin the team for the upcoming 2011 summer season. Arnsberg was a member of last season's 2010 Texas Collegiate League Championship team.
"We're excited to have Kyle back in Victoria playing for us again this summer," commented Victoria's general manager, Blake Koch. "It's a big compliment to our organization to have players who want to continue to come back and play for us every year."
Arnsberg is currently a freshman at McLennan Community College in Waco where he plays for former Generals head coach, Chris Clemons. Arnsberg transferred to MCC after redshirting last year at Arizona State University.
Arnsberg has started at catcher, first base, or designated hitter in all of MCC's 49 games this season. To date, Arnsberg is currently batting .303 with 16 doubles, three homeruns, 22 walks, and 29 RBIs.
Arnsberg, a native of Arlington, Texas, was drafted in the 45th round of the 2009 Major League Baseball Draft by the Boston Red Sox.
Kyle is the son of current Houston Astros pitching coach, Brad Arnsberg. Brad pitched six seasons in the major leagues for the New York Yankees (1986-87), Texas Rangers (1989-91), and Cleveland Indians (1992). Brad is currently in his second season with the Astros. Brad was formerly the pitching coach for the Montreal Expos from 2000-03 and for the Toronto Blue Jays from 2005-09.
The Generals kickoff the 2011 season at home on June 1. Game time is 7:05pm at Riverside Stadium against the East Texas Pump Jacks.
Season tickets can be purchased at the Generals front office located at 3708 North Navarro Suite A in the Landmark Shopping Center, online at
www.VictoriaGenerals.com
, or by calling 361-485-9522.