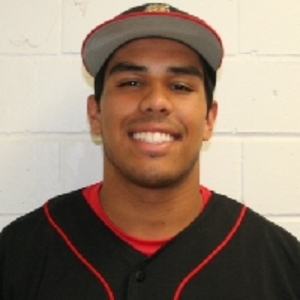 While most college students head home for the summer or travel to tropical locations on vacation, John Longoria has decided to stay put right here in Victoria, Texas to play for the Victoria Generals in the Texas Collegiate League this summer.
Longoria, who is currently leading the University of Houston-Victoria baseball team in almost every major statistical category, said that he is looking forward staying in Victoria this summer to help the Generals defend the 2010 TCL Championship they won last year.
"It is an honor to be asked to play for the Generals this summer," commented Longoria. "I hope that we can continue the winning tradition that the Generals have established in the TCL and bring home another championship title."
Longoria, who was most well known for his football prowess at Klein Collins High School during his prep career, has only scratched the surface of his baseball talents according to General's GM Blake Koch.
"John has gone through a lot of transitions as a baseball player over the last three years," commented Koch. "He has such a high ceiling for growth as a player with his physical abilities. We're really excited to see him continue to grow right before our eyes in a Generals uniform this summer."
Longoria primarily focused on football in high school, but was always drawn to the game of baseball. He started his collegiate career at Angelina College in Lufkin as a walk-on. Over the summer, Longoria played for the Colt 45s in the Carl Young Baseball League in Houston. One of his summer league coaches had a personal connection to UHV head baseball coach Terry Puhl. Through that relationship, Puhl found out about Longoria and convinced him to transfer to UHV to play for the Jaguars.
Under Puhl's tutelage, Longoria has improved immensely in all phases of the game and become one of the most feared hitters in NAIA baseball. To date, Longoria is currently batting .356 with 17 doubles, four triples, five homeruns, 12 stolen bases, and 34 RBIs on the season.
With the help of Longoria, UHV is looking to capture its third straight American Independent Institutions conference championship this season.
Longoria was a big factor is last season's championship team, hitting .309 with 13 doubles, one triple, 10 homeruns, four stolen bases, and 49 RBIs.
The Jaguars are currently 24-21 on the season heading into their weekend series at Texas Wesleyan University. The Jaguars will close out the regular season on April 23 & 24 when LSU-Alexandria comes to town for a three-game series at Riverside Stadium.
Longoria will not be the first Jaguar to play for the Generals during the summer.
David Baker, currently a senior designated hitter at UHV, played for the Generals on their 2010 TCL Championship team last summer.
The Generals open the 2011 season on June 1 at 7:05pm at Riverside Stadium against the East Texas Pump Jacks. Season tickets are on sale now and can be purchased online at
www.VictoriaGenerals.com
, at the team store located at 3708 North Navarro Suite A in the Landmark Shopping Center, or by calling 361-485-9522.