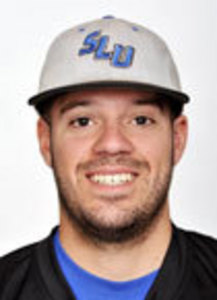 The Victoria Generals will have two new catchers behind the plate during the 2011 Texas Collegiate League summer season which starts on June 1 at Riverside Stadium in Victoria. The Generals will begin their 2010 TCL Championship title defense by hosting the East Texas Pump Jacks in a rematch of last year's TCL Championship Series to kick off the 2011 campaign.
Connor Gandossy, a junior at Saint Louis University, and Daniel Garcia, a redshirt freshman at the University of Texas at Arlington, both recently signed with the Generals and will see plenty of action during the team's new 60-game schedule that was released last week.
Having multiple catchers is essential to any winning summer collegiate baseball team according to Victoria's general manager, Blake Koch.
"With our new 60 game schedule this summer, we will be playing six nights a week in the hottest months of the year," commented Koch. "We're going to have to carry three catchers this season that will all get about equal playing time so that we don't burn anyone out in this South Texas heat."
Connor Gandossy, a native of Madison, Connecticut, played high school ball at St. Luke's School where he was a three-time all-league selection. Gandossy hit .425 his senior season with 11 doubles, two triples, three home runs, 11 stolen bases, 33 runs, and 26 RBIs.
The 6'2", 210-pound Gandossy is the starting catcher this season at SLU after serving primarily as a backup the past two seasons. In 2010, Gandossy hit .231 with four doubles and 11 RBIs while seeing action in 35 games. Gandossy recently earned the Billiken Baseball Fall World Series MVP honor after hitting .474 with four doubles, one home run, and six RBIs during SLU's Fall World Series.
"Connor is a smart, veteran player that has all of the physical tools to be a great defensive catcher," Koch stated.
Daniel Garcia is another piece to the Generals catching puzzle this summer. Garcia, a native of Arlington, Texas, redshirted last year as a freshman at UTA. Garcia is serving as the backup this season to senior Chad Comer who many consider to be the best college catcher in the state of Texas.
Garcia was a two-time first-team all-district performer at Arlington Martin High School where he batted .380 as a senior with 12 doubles and two home runs. Garcia was selected to play in the Texas High School All-Star Game and was also named the Martin Student of the Year.
As a junior, Garcia hit .444 and was named the district Defensive Player of the Year.
Garcia has also garnered several academic awards including being named to the Capital One Southland Conference 2010 Commissioner's Spring Academic Honor Roll.
"Daniel is a good, young player that will benefit greatly from playing in our league this summer," said Koch. "He's a hard working kid that plays the game the right way."
Season tickets for the Generals 2011 season are on sale now. Fans can buy season tickets and team merchandise at the Generals team store located at 3708 North Navarro, Suite A in the Landmark Shopping Center, online at
www.VictoriaGenerals.com
, or by calling 361-485-9522.