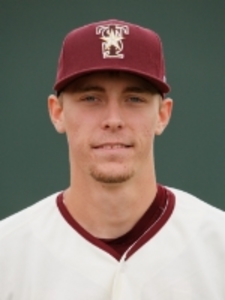 Opening day for the Victoria Generals 2011 season is quickly approaching, and the Generals continue to add players to their roster that will help them defend the Texas Collegiate League championship they won in 2010.
The Generals have announced the addition of Covey Morrow, a left-handed pitcher from Texas State University who pitched for the Generals back in 2009, and Cody Abraham, an outfielder from Mississippi State University, to their 2011 roster.
Covey Morrow, a 6'5", 190-pound junior, threw 15 innings for the Generals in 2009, compiling a miniscule 0.60 ERA. Morrow was signed to play for the Generals last season, but an arm injury kept him off the diamond. Morrow is from Yoakum High School where he compiled an impressive prep career, pitching in 123 innings and striking out 206 batters to go along with a 0.96 ERA.
Morrow is taking a redshirt year this season at Texas State after posting a 4.91 ERA in 17 appearances for the Bobcats last season. Morrow stuck out 11 batters in 14.2 innings while allowing just four walks.
"Covey is continuing his rehab program and should be completely healthy by the time the summer season gets here," commented Blake Koch, Victoria's general manager. "We're excited to see what Covey can do for us on the mound for a full season."
Joining Morrow in Victoria will be freshman outfielder Cody Abraham. Abraham, a 5'11", 160-pound outfielder from Mississippi State University, was a three-time all-state honoree at Lamar Consolidated High School in Sugar Land. As a senior, Abraham hit .524 with 18 doubles, seven triples, six home runs, and 49 RBIs. Abraham also recorded a team-high nine saves to go along with 64 strikeouts while only allowing one run in 25 innings of relief on the mound.
"Cody is a dynamic player that will help fill the void in the outfield left by the departure of guys like Mark Hudson and Andy Russell," stated Koch. "Cody has a very bright future ahead of him on the diamond."
Opening day for the Victoria Generals 2011 season is June 1 at Riverside Stadium. The team is expected to release its full TCL schedule next week.
Season tickets are on sale now and can be purchased at the team's front office located at 3708 North Navarro Suite A in the Landmark Shopping Center, online at
www.VictoriaGenerals.com
, or by calling 361-485-9522.
Fans in the Victoria area who are interested in being a host family for the Generals this summer are encouraged to call the front office for more details.