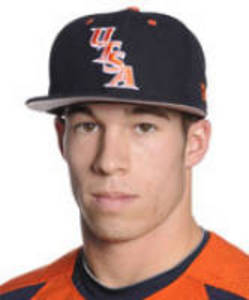 The Victoria Generals have announced the addition of two new players with ties to the Southland Conference. Jake Wood, a sophomore from the University of Texas-San Antonio, and Alex Jack, a junior from Texas A&M University-Corpus Christi, will play for the Generals in the summer of 2011.
"The Texas Collegiate League always has a large number of players from the Southland Conference," stated Blake Koch, GM of the Generals. "We feel that these two young men will come in and have a positive impact on our team this summer."
Jake Wood, a left-handed hitter from of Noblesville, Indiana, started at first base in 35 games for the UTSA Roadrunners as a true freshman last year, hitting .205 with seven doubles, four home runs, 17 runs, and 19 RBI.
As a senior at Noblesville High School, Wood was named the Co-Player of the Year in Hamilton County after batting .494, with 10 home runs, 33 runs scored, and 32 RBI.
"Jake is a big kid with a lot of power in his bat," commented Koch. "He's definitely the type of player that can change a game with one swing of the bat."
Alex Jack, a 6'4" left-handed pitcher, will give the Generals extra depth on the mound this summer.
Jack, a native of Arroyo, California, transferred to A&M-Corpus Christi after playing two seasons at Chabot Community College where he posted an 11-2 career record as the team's ace.
Jack earned first-team all-league honors as a sophomore after posting a 5-1 mark with a 3.44 ERA. He had 39 strikeouts in 55 innings while holding opponents to a .211 batting average.
As a freshman in 2009, Jack was 6-1 with a 3.24 ERA. He averaged nearly a strikeout per inning with 58 strikeouts in 58.1 innings of work, while holding hitters to a .220 average at the plate.
"Alex has had a lot of success at the collegiate level during his career," said Koch. "He certainly has the size and physical ability to be a pro ballplayer one day."
Season tickets for the Generals 2011 season are on sale now as the TCL plans to release its 2011 season schedule in the coming weeks. Fans can buy season tickets and team merchandise at the Generals team store located at 3708 North Navarro, Suite A in the Landmark Shopping Center, online at
www.VictoriaGenerals.com
, or by calling 361-485-9522.