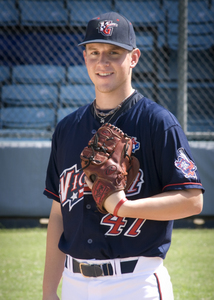 The Victoria Generals of the Texas Collegiate League have the announced the addition of two more players to their 2011 summer roster. The Generals have re-signed right-handed pitcher Jared Hopper from the University of Texas-San Antonio and have also added infielder Kevin Philips from Southeastern Oklahoma State University.
By retaining Hopper, the Generals will get back their opening day starting pitcher from the 2010 season, a season in which the Generals finished with a 34-17 record, won the TCL Championship, and earned #14 national ranking.
Hopper had a strong season on the mound for the Generals in 2010. While seeing action in 12 games and starting in seven, Hopper finished with a record of 2-3. Hopper pitched 51.2 innings, only allowing 16 earned runs and striking out 26 batters to garner an ERA of 2.79.
Hopper transferred to the University of Texas-San Antonio in the fall after three stellar seasons at the University of Mary Hardin-Baylor. The right-hander will have to sit out during the spring this season at UTSA due to the NCAA Transfer Rule.
Last season at UMHB, Hopper set the school career strikeout record. Hopper finished his three-year career at UMHB with a record of 16-10 and a 3.90 ERA. Hopper pitched in 228.2 innings and struck out 220 batters. He was also a two-time all-conference selection.
"Jared chose to transfer to a Division I school to play his senior season in hopes of getting more exposure to scouts by playing at a higher level," stated Koch. "Jared is an impressive young man who is giving up the opportunity to rewrite the record books at UMHB and in the American Southwest Conference to pursue his dream of playing professional baseball. It speaks highly of Jared's character and determination."
Joining Hopper on the diamond this summer for the Generals will be infielder Kevin Philips, a junior from Southeastern Oklahoma State University.
Phillips transferred to Southeastern after two standout seasons Seminole State College where he was teammates with General's pitcher Blake Payne. Phillips was honored as a 2010 2nd Team All-Region II infielder after posting a .342 batting average with 14 doubles, seven home runs, 42 runs, and 24 RBI as a sophomore.
Phillips spent last summer in the Coastal Plains League playing for the Gastonia Grizzlies. He is expected to be the starting shortstop this season at Southeastern.
"Kevin is a great all-around player and he will add another veteran presence to our clubhouse," commented Koch.
Season tickets for the Generals 2011 season are on sale now as the TCL plans to release its 2011 season schedule in the coming weeks. Fans can buy season tickets and team merchandise at the Generals team store located at 3708 North Navarro, Suite A in the Landmark Shopping Center, online at
www.VictoriaGenerals.com
, or by calling 361-485-9522.