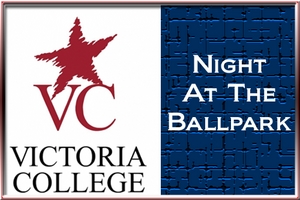 Victoria College has partnered with the Victoria Generals to host "VC Night at the Ballpark" on Tuesday, July 13. Gates will open at 6 p.m. and the game will start at 7:05 p.m. The Generals will play the Brazos Valley Bombers at Riverside Stadium. VC students, faculty and staff may purchase tickets at half price for $3 at the gate with a college ID.
There will be games, prizes and giveaways throughout the game between innings. Generals fans and VC students, employees and supporters will compete in "Dress the Pirate," the "Best Arrgghh!" contest and a Root Beer Chugging contest. The crowd will also meet the new VC Pirates volleyball and basketball teams, along with VC scholarship recipients and other notable VC award winners.
A VC information table will be set up at the game to give Generals fans the opportunity to learn more about the career and technical, allied health, continuing education and transfer programs offered at VC.