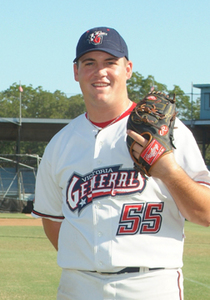 Two former Victoria Generals heard their names called in this year's 2010 Major League Baseball Draft. Pitchers Zach Nuding and Willie Kempf both saw their dreams of being drafted turn to reality.
Zach Nuding, the Generals primary closer in 2009, was selected by the New York Yankees in the 30th round. Nuding just completed his sophomore season at Weatherford College and has committed to play at Texas Tech University next season.
Willie Kempf, a starter for the Generals last season, was selected by the Atlanta Braves in the 27th round. Kempf just finished his collegiate playing career at Baylor University.
The Generals also saw a current member of their team taken as well. Pitcher Ryan Turner, who will make his first appearance for the Generals this weekend, was selected in the MLB draft for the 3rd time in his career. Turner was taken in the 49th round of this year's draft by the Atlanta Braves. Out of high school, Turner was selected in the 22nd round by the Tampa Bay Devil Rays. After attending Midland College for one season, Turner was drafted by Tampa Bay again in 2008 in the 30th round. Turner just completed his sophomore season at McLennan Community College where he pitched for current General's head coach, Chris Clemons.
The Generals return home this weekend to face the Alexandria Aces on Saturday and Sunday at Riverside Stadium. Both games are 7:05pm starts. Be sure to come out to the games to get a chance to witness as future professional players face off against each other.