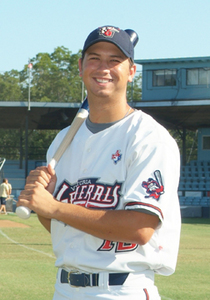 The Victoria Generals have signed two more outfielders to help them defend their 2009 regular season Texas Collegiate League Championship. Michael Niemann, a junior from Delta State University, and Andrew Moore, a returning player for the Generals from Yale University, have signed contracts to become members of the 2010 Victoria Generals.
"We're excited to have these two young men come in to anchor our outfield this summer," said the General's GM, Blake Koch. "Michael brings a great deal of playing experience to our roster while Andrew gives us another familiar face back in Victoria."
Michael Niemann, a native of Yelm, Washington, joins the Generals from one of the most successful Division II programs in the nation. Delta State is a perennial powerhouse that is regularly in contention for the national championship. Niemann has been a standout player for Delta State over the past two seasons, becoming the first true freshman starter for Delta State since the early 1990's. Neiman is coming off of a sophomore campaign in which he led the team in batting average with a .353 mark, in hits, with 73, and in stolen bases, going 24-of-27. Niemann was named to the All-Gulf South Conference First team for his efforts. As a freshman, Niemann hit .346 with 66 hits and 7 stolen bases while also earning a spot on the GSC All-Tournament Team. Niemann recently received the honor of being named to the 2010 Preseason All-GSC Team.
"Michael is a seasoned player that will step in and fill the role that James Hipp played for us last season," said Koch. "Michael is a top-of-the-order guy who can generate runs and cause havoc for other teams on the base paths."
Rejoining the Generals in 2010 is Andrew Moore. Moore was a regular contributor for the Generals last season, hitting 4 doubles while driving in 7 runs and drawing 16 walks. Moore's biggest moment last year for the Generals came in the second game of the TCL Championship Series when he slugged a grand slam in the bottom of the 8th inning to help spark a huge rally to get the Generals back in the game. Moore is expected to be a starting outfielder at Yale this season.
"Andrew was by far our most improved player last season," Koch continued. "He struggled a little bit at the beginning of the year while getting adjusted to using a wood bat, but really finished the year strong. Andrew has a lot of fire in his bat and is someone that we expect to put up big power numbers of us."
General's fans can purchase season tickets at the team shop located at 3708 North Navarro, Suite A in the Landmark Shopping Center. The Generals are also still looking for host families for the 2010 summer season. If you are interested, please visit the team website at www.victoriagenerals.com for more details.