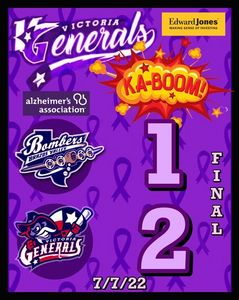 The Generals Win a Close One at Home Against the Bombers
July 7, 2022- Tonight at Riverside Stadium was Purple Out the Park presented by Edward Jones. Jerseys were auctioned off before the game along with two team signed jerseys and a bat in the middle of the fifth and a total of $9,485 was raised with all proceeds going to the Alzheimer's Association. Riverside was packed with fans sporting purple as they rallied behind the Generals to get a win against the Bombers after coming off of a loss to them on Tuesday night.
The Generals morale was high as they looked to get redemption off of their previous loss. They managed to get on the board first in the bottom of the first off of an RBI from the third baseman Adam Becker. The Generals were not done yet as in the bottom of the second, Adrian Minjares, the Generals catcher, hit a sac fly RBI to extend the lead 2-0.
The Bombers struggled at the plate as strong defense from the Generals was present all night long. The Bombers went nine up, nine down at the start of the game backed by strong pitching from Hunter Murray who had himself a dominant night on the mound for the Generals. Following the two early runs scored, the Generals struggled to bring in more runs. Considering it was a close ball game, the Generals defense was not going to back down as they looked to hold onto their lead.
Murray pitched seven innings handing out five strikeouts and a total of 94 pitches and allowed only one run scored in the top of the seventh as the Bombers decreased the Generals lead 2-1 after getting their second hit of the ball game. Will Duncan came into the game in the top of the eighth on the mound to close it out hoping to prevent a comeback from the Bombers. Duncan handed the Bombers four strikeouts to help end the ball game with a total of 38 pitches.
The Bombers could not manage to score any more runs as the Generals defense was on fire tonight which helped them win 2-1.
The Generals will be back in action tomorrow night for game two of a four game home stand as they take on the Baton Rouge Rougarou on Free Ticket Night presented by Victory Buick GMC. First pitch will be thrown at 7:05 p.m.