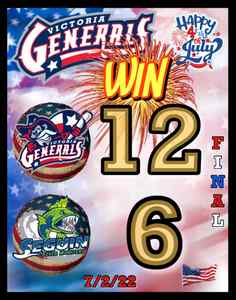 Generals Use Huge Inning to Rout River Monsters
July 2, 2022 – Generals head into Seguin after an unexpected day off yesterday after a rainout in Baton Rouge and pick up the win 12-6. The Generals used a huge eight run fourth inning to put the game out of reach early, after trailing by a score of 2-0.
The Generals got things going with back to back to back singles from Chase Sanguinetti, Isaiah Walker and Brandon Galindo. Adrian Minjares would draw a walk forcing a pitching change by the River Monster as the generals would get their first run of the game. Adrian Mendoza puts the ball in play to the first baseman who would get the first out, evening the score at 2-2. A passed ball would score Galindo and a Single from Sean Curtis would plate Minjares. Jackson Hardy's hit by pitch and a Samuel Benjamin single would score Curtis. Following another pitching change, Becker would double, scoring Hardy and Benjamin. Sanguinetti would make his second plate appearance of the inning, singling and scoring Becker to run the score to 8-2.
The River Monsters would claw back into the game with a run in the fifth and a pair of runs in the sixth to run the score to 8-5 heading into the eighth inning. Four straight walks by Galindo, Minjares, Mendoza and Curtis would score Galindo. Benjamin would single scoring Minjares and a walk from Becker would plate Mendoza making the score 11-5.
The River Monsters would plate a run in the eighth and the Generals would plate a run in the ninth as Travis Phelps enter the game in the bottom of the ninth. Phelps would record a pair of strikeouts and slam the door on any threat ending the game 12-6
The Victoria Generals will host the TCL All Star Game tomorrow (Sunday) at Riverside Stadium. It will be a Free Ticket Night presented by City Mortgage Group! Gates open at 5pm with the Home Run Derby presented by Homewood Suites starting at 6pm. Free admissions to everyone so come out and enjoy the festivities.