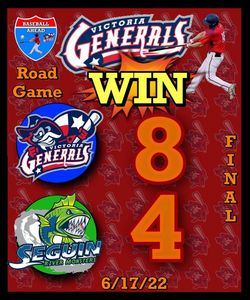 Generals Sweep River Monsters in Three Game Series
June 17, 2022 – Generals continue solid play tonight with a three game sweep of the Seguin River Monsters. With a split series with the River Monsters with games one and three being played in Seguin and the middle game being played at Riverside Stadium. Final score in the game was 8-4 as the Generals used a seven run 6th inning to seal the victory.
Hunter Murry got the start for the Generals retiring the River Monsters in order in the first inning. The River Monsters got things going in the second scoring a pair of runs to take a 2-0 lead heading to the 3rd inning. Generals would cut the lead in half on a RBI single that would score Adrian Minjares and taking the score to 2-1.
Both pitchers would find their rhythm shutting down their opponent until the top of the 6th when River Monster starter Zachary Carrell, who had been cruising, would run into trouble as Generals bats would catch fire with Isaiah Walker, Adam Becker, Chase Sanguinetti, Samuel Tormos and Minjares all collecting singles and sloppy play from the River Monsters lead to a seven run inning for the Generals taking the lead 8-2.
The Generals would wrap up the game by the score of 8-4 on a strong start from Hunter Murray who got the win allowing two runs in a strong six inning outing collecting four strike outs while walking just one.
The Generals return to Riverside Stadium on Sunday as the Acadiana Cane Cutters come to town for a two-game series. The Generals will break away from Riverside Stadium for a quick trip to Brazos Valley on Tuesday before coming home to wrap up the week on Wednesday with Brazos Valley and two games with Baton Rouge Rougarou.
A huge promotion filled week is instore for Generals fans with Sunday being Dad's Day at the Park with Free admission to everyone thanks to our sponsor Explore Victoria Texas. Monday is also a Free Ticket Night presented by University of Houston–Victoria, with Wednesday a Free Ticket Night as well presented by Invista. Thursday will be Diamonds on the Diamond presented by Deutsch & Deutsch with diamonds being given away to a lucky fan. The Generals wrap up the final game of the week with another Free Ticket Night presented by Zen Wtr. Gates open at all games at 6:00 pm with first pitch set at 7:05.