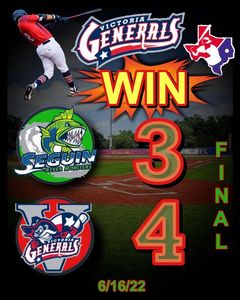 The Generals Win a Close One at Home Against the River Monsters
June 16, 2022- The Generals are coming off of a close win from last night against the Seguin River Monsters where they won 5-4 in an extra inning. The Generals hosted the River Monsters in Riverside Stadium tonight and were looking to take another win from them on Thirsty Thursday at the ballpark.
The Generals morale was high to start off the ball game as they looked to capitalize off of last night's win, but the River Monsters were looking to swim out of Riverside with a redemption win. The River Monsters started off the game with their bats hot, but only managed to bring in one run as the Generals defense was ready to stop anything that was coming at them as Justin Barry-Smith had himself a night on the mound handing the River Monsters five strikeouts in this game. The Generals were hitting the sticks, but the River Monsters defense was not allowing them to take any bases as they tried to keep control of the ball game.
Things started to heat up in the top of the third when the Generals defense was making some dominant plays to show the River Monsters this was their house. Angel Mendoza, the catcher for the Generals, caught a River Monster in a throw down in between second and third and eventually he was tagged out at third by Adam Becker who helped get the Generals started in this ball game shortly after.
With two Generals on base in the bottom of fourth for the first time in the game, Becker goes up to the plate and hits an RBI to give the Generals their first run of the game. Isaiah Walker, the shortstop, runs home off of a passed pitch to give the Generals the lead and to extend their lead even more, the right fielder Samuel Tormos hits an RBI to make the score 3-1 to end the fourth inning. The River Monsters responded with a pair of RBI's in the top of the fifth to tie the ball game 3-3.
The ballgame was at a standstill with the score remaining tied until the bottom of the eighth as the Generals had bases loaded for Mendoza, but he got walked which gave the Generals the lead 4-3. The Generals then held the River Monsters in the top of the ninth to secure the win with the final score being 4-3.
The Generals will head to Seguin tomorrow night to take on the River Monsters in the final game of the three-game series. Sunday night at Riverside Stadium is Dad's Day at the Park and Free Ticket Night presented by Explore Victoria Texas. Play catch with dad on the field before the game starts at 7:05.