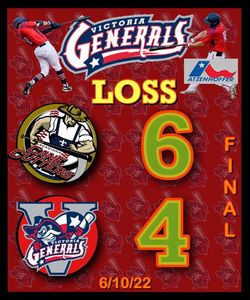 The Generals Come Up Short Against the Cane Cutters
June 10, 2022 – The Generals are coming off of a road series starting in Louisiana and ending in Brazos Valley this past week. The Generals ended up taking a win against the Cane Cutters on Monday night with the score being 8-6. The Cane Cutters made a road trip of their own to Riverside Stadium looking to get revenge and take back a win on the Generals home turf.
The Cane Cutters took an early lead in this ball game with four runs being scored and the Generals only responding with one of their own in the bottom of the fourth when the TCL Co-Hitter of the Week Cole Turney hits a Triple RBI that brings in the first run for the Generals. Following the run scored, the Cane Cutters could not respond in the top of the fifth due to defensive plays by Brandon Galindo who threw out a runner advancing to third. The bottom of the fifth was followed up by an RBI by Samual Benjamin which lessened the deficit which made the score 4-2 in favor of the Cane Cutters.
Despite the small lead the Cane Cutters had, the General's defense was constantly putting in the effort to keep runners off base. Second base was hot tonight as Jacob Evangelsita made quite a few plays, one in particular in the top of the sixth inning which boosted the Generals morale to get them back into the ballgame. The Cane Cutters looked to extend their lead in the seventh by scoring two more runs to make the score 6-2.
The Generals were not going to give up that easily. At the bottom of the eight inning, the Generals bats woke up and Turney and Samuel Tormos brought in a pair of RBI's that cut the Cane Cutters lead down to 6-4 as the Generals were determined to come back strong in the ninth inning. The Generals prevented any runs being scored in the top of the ninth and looked to hit the sticks and come back to win the ball game.
JJ Slack of the Generals got the crowd pumped on free ticket night in the bottom of the ninth. Three Generals got walked in the duration of the inning, despite two outs, which left bases loaded down by two runs, but the Generals came up short and could not capitalize on the promising opportunity that was in front of them. The Generals fell short despite a good fight against the Cane Cutters with the final score being 6-4.
Tomorrow night, the Generals will play the Cane Cutters once again and try to take a big win at home on Warriors Weekend Jersey Auction Night courtesy of Scherer Kubota. It is also Free Ticket Night presented by Compadres Design. Game starts at 7:05 p.m. The jersey auction will occur after the game is over.