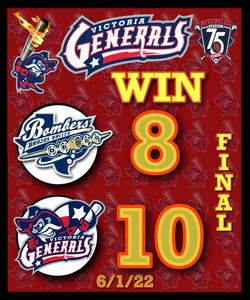 The Generals Bounce Back with a Win Over the Bombers
June 1, 2022 – With the second game of the season underway, the Generals were looking to bounce back from a previous loss to the Seguin River Monsters. They welcomed the Brazos Valley Bombers to Riverside Stadium and handed them a tough loss. The Generals took command of this game and won 10-8 and are looking to build momentum off of this win.
The Brazos Valley Bombers started the game off with a 2-0 lead in the first. That was not going to stop the Generals. It took the first at-bat for the Generals to get comfortable at the plate and in the bottom of the second, Cole Turney hit his second home run of the season to get the Generals on the board.​ The Generals were looking to use that home run from Turney as energy to carry them through the first half of this game. The Bombers responded the next inning adding two more runs to their score, but shortly after in the top of the fourth, the Bombers went three up, three down, and the Genrals were ready to hit the sticks.
The Generals bats woke up in the bottom of the fourth. A few Generals walked and that led to bases loaded for Austin Ochoa. Ochoa moved in a runner followed by multiple Generals players getting on base and bringing players home. After Sean Curtis' RBI groundout, Chris Kean hit a double in the left field gap. Kean's double brought in two more Generals' runs for the 5-4 lead. The Bombers had to make a pitching change after the lead change to try and stop the Generals from getting more runs in. By the end of the massive inning from the Generals, they managed to bring in seven runs to make the score 8-4.
The Bombers responded in the top of the fifth with four runs of their own off of bases-loaded walks. Ground balls by Robert Antonetti and Shelby Becker led to runs scored for the Bombers. The score then was tied 8-8. The Generals were not going to let the runs scored by the Bombers stop them.
Generals' third baseman Ochoa, to start off the seventh inning, hit a home run to left field to bring the Generals up 9-8. Following the home run, Chris Kean hit a line drive over the Bombers' shortstop to bring in the tenth run putting the Generals ahead 10-8. Generals pitching stopped the Bombers from scoring in the eighth and ninth. Austin Teal and Austin Dean closed out the game for the Generals with two strikeouts a piece.
Friday night, come back out to Riverside Stadium as the Victoria Generals take on the Baton Rouge Rougarou. It's Educator's Night and free ticket night at the ballpark presented by Whataburger. Gates open at 6 p.m. with first pitch scheduled for 7:05 p.m.