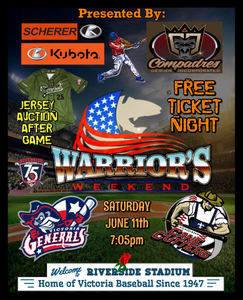 April 28, 2022 – With the 2022 Texas Collegiate League season fast approaching, the Victoria Generals announce the signing of four pitchers to their staff. Luis Martinez (A&M-Kingsville), Nick Luckett (Southern), Caleb Cude (Pratt Community College), and Ian Sexton (Coastal Bend College) will all hit the mound as the Generals chase their third TCL Championship. This will be the 14th season for the Victoria Generals as they take the field at Riverside Stadium in late May.
Right-handed pitcher Luis Martinez, a Junior from A&M-Kingsville will take the mound for the Generals this Summer. The McAllen native is having an outstanding year for the Javelinas through 42 games. Martinez has appeared in 14 games, 16.1 innings, with 16 strikeouts and compiling a team leading earned run average of 1.69 on the season. Martinez has held the opposition at bay with a .175 batting average against while compiling a 1-0 record with one save.
Right-handed pitcher Nick Luckett, a redshirt freshman from Southern University has signed on with the Generals. Through 38 games at Southern, Luckett has made 16 appearances from the bullpen in 23.1 innings with 19 strikeouts and holding the opposition to a .245 batting average against. Luckett will look to come out of the bullpen for the Generals.
Left-handed pitcher Caleb Cude, a sophomore from Pratt Community College, is having a solid sophomore season through 46 games. The Port Lavaca native has appeared in eight games, throwing 29.1 innings with 39 strikeouts and an ERA of 5.83 thus far this season. His 11.97 strikeouts per 9 innings is the best on the team. Cude was a standout pitcher for the Calhoun Sandcrabs and a 2020 graduate. Cude has signed on to play for Stephen F. Austin following this sophomore season at Pratt Community College.
Right-handed pitcher Ian Sexton, a sophomore at Coastal Bend College will likely come out of the bullpen for the Generals this Summer. The San Antonio native has appeared in 12 games (through 4/28) with 29.1 innings while striking out 29 batters. He has racked up three saves on the season.
"These players come to us with great potential and we are excited to see them develop with us this Summer," commented Michael Oros, Generals Head Coach. "With this group we have proven success as well as unlocked potential and are excited to see what the future holds for these young men."
The Victoria Generals will play 48 games with 24 of the games being played here in Victoria at Riverside Stadium. The Generals will open the season at Riverside Stadium on May 31st as they play host to the newest Texas Collegiate League's franchise the Seguin River Monsters. The Generals schedule can be found on our website at www.victoriagenerals.com, along with the promotional calendar showing upcoming promotional nights. Follow the Generals on Facebook and Twitter for further updates on the upcoming season. Fans can buy season tickets and merchandise at the team store located at 1307-H East Airline Road in the Town and Country Shopping Center.
The Generals are also currently looking for additional Host families for the Victoria Generals players. Plenty of great perks for hosting including VIP season ticket packages. If you are interested or need additional information, please call 361-485-9522.