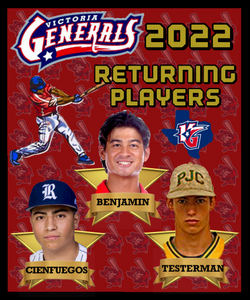 April 13, 2022 – With the 2022 Texas Collegiate League season a little more than a month away, the Victoria Generals announce the signing of three additional players from the 2021 team. Returning for another season are, outfielder Samuel Benjamin, pitcher Austin Testerman and pitcher Cristian Cienfuegos as the Generals chase their third TCL Championship. This will be the 14th season for the Victoria Generals as they take the field at Riverside Stadium in late May.
"Acquiring players that already have a season under their belt with the Generals is always a plus as we plan for the upcoming season," commented Mike Yokum, Generals Vice President and General Manager. "These guys are seasoned and know the grind of Summer ball and what to expect and can help lead the newcomers as they take the field for the Generals."
Outfielder Samuel Benjamin, a sophomore at the University of Houston and Katy, TX native, returns after a solid Summer campaign with the Generals in 2021. Benjamin appeared in 19 games for the Generals hitting .315 with 73 at-bats, 23 hits, eight doubles, three home runs, 17 runs scored, 18 RBI's, four walks and 10 stolen bases. So far in 2022 (as of 4/12) Benjamin has appeared in 27 games for the Cougars with 11 hits, three doubles, a triple, scored nine runs, four RBI's and three stolen bases.
Right-handed pitcher Austin Testerman, a sophomore from Paris Junior College and Melissa, TX native, will appear on the mound once again after a solid 2021 campaign for the Generals. Testerman appeared in six games (9.1 innings) and gave up four hits, four earned runs, struck out 15 batters and compiled a 1-0 record with a save and an earned run average of 3.85 on the season. Testerman in 2022 at Paris (as of 4/12) has appeared in 14 games (23 innings) with a record of 2-3 with a save while striking out 33 on the season.
Right handed pitcher Cristian Cienfuegos, a sophomore from Rice University and Baytown, TX native, will return once again to the mound for the Generals. Cienfuegos appeared as a two-way player last summer for the Generals appearing in 19 games, with 41 at-bats, eight hits, a double, a triple, scored nine runs, six RBI's and 10 walks. On the mound he appeared in six games, allowing nine hits, three earned runs, seven strike outs and an ERA of 3.95 on the season. In 2022 for the Owls, Cienfuegos has made 11 appearances (11.2 innings) allowing 7 earned runs while striking out seven batters.
"These three players came to us as a freshman and we felt they made huge strides and have really capitalized on their opportunities in Victoria and at their schools," commented Michael Oros, Generals Head Coach heading into his eighth season. "We are excited and hopefully their success continues this season for the Generals."
The Victoria Generals will play 48 games with 24 of the games being played here in Victoria at Riverside Stadium. The Generals will open the season at Riverside Stadium on May 31st as they play host to the newest Texas Collegiate League's franchise the Seguin River Monsters. The Generals schedule can be found on our website at www.victoriagenerals.com, along with the promotional calendar showing upcoming promotional nights. Follow the Generals on Facebook and Twitter for further updates on the upcoming season. Fans can buy season tickets and merchandise at the team store located at 1307-H East Airline Road in the Town and Country Shopping Center.
The Generals are also currently looking for additional Host families for the Victoria Generals players. Plenty of great perks for hosting including VIP season ticket packages. If you are interested or need additional information, please call 361-485-9522.