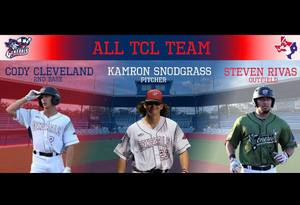 League Announces Post-Season Award Selections
August 16, 2021 – The TCL post-season awards were announced today and the Generals had three players selected to the All-TCL Team. Making the team were: Cody Cleveland (second base), Steven Rivas (outfield) and Kamron Snodgrass (pitcher).
Cody Cleveland (Southern Illinois University) had a solid season for the Generals hitting .280 with 28 hits, three doubles, three triples, two home runs, 13 runs batted in, scoring 15 runs, eight walks and six stolen bases. Cleveland will return to Southern Illinois for his senior year in 2022.
Steven Rivas (University of Houston) joined the Generals in early June and made an instant impact on the league. Rivas put up numbers that have never been put up before in the TCL. Although only appearing in 18 games on the season, Rivas hit .426 (best in TCL) with 29 hits, seven doubles, nine home runs (best in TCL), 19 runs batted in, 19 runs scored, 15 walks, and an on-base percentage of .524 (best in TCL). Rivas' slugging percentage of .926 on the season is a TCL record for any season. Shortly after leaving the Generals, Rivas signed a free agent deal with the California Angels and is currently playing for the Tri-City Dust Devils in their minor league system. Rivas was also selected as the Player of the Year for the Generals.
Kamron Snodgrass (Texas A&M International) had a solid season for the Generals this season. Snodgrass appeared in 12 games (24 innings) with 29 strike outs, allowing just 15 hits, 6 earned runs and an earned run average of 2.25 (including playoffs) on the season. Snodgrass achieved a record of 3-1 with one save on the season and will be transferring to Wharton Junior College for the 2022 season. Snodgrass was also selected at the Pitcher of the Year for the Generals this season.
The Victoria Generals organization has already begun the planning for an exciting 2022 season. Sponsorship packages are available to fit any budget by calling 361-485-9522. Season ticket packages will be available soon, as well as new merchandise at the Victoria Generals Team Shop located at 1301 E. Airline in the Town and Country Shopping Center. The 2022 schedule will be available soon and can be found on the Generals website at www.victoriagenerals.com. Follow the Generals on Facebook and Twitter for further updates on the upcoming season.