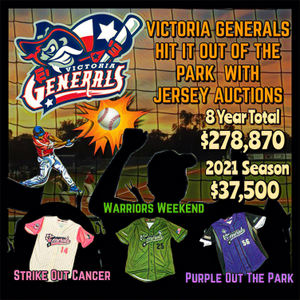 Generals Raise $37,500 With 2021 Jersey Auctions
The Generals wrapped up their season this past weekend falling short in the championship game to the San Antonio Flying Chanclas. Although that championship eluded the Generals, they were champions off the field raising money for charity. 2021 marked the eighth season that the Generals have held jersey auctions to benefit organizations within our community. In 2014, the Generals raised $18,500 for Warrior's Weekend and Guardians of the Ribbon. New for 2015, the Generals added a purple jersey to benefit the Alzheimer's Association and raised $34,850 with the three jersey auctions. In 2016, the Generals raised $33,896, in 2017, $32,375, in 2018, $35,500, and in 2019, a record $55,950 was raised. Our 2020 season would be shortened due to Covid-19 and we would only have Warrior's Weekend and Strike Out Cancer and the Generals would raise $28,800.
The first jersey auction was held on June 12th as players and coaches wore commemorative jerseys for two nights. The patriotic jerseys paid tribute to our military this season and were auctioned off to benefit Warrior's Weekend thanks to our jersey sponsor Scherer Kubota. The event brought in $20,500 for the Warrior's Weekend Organization and showed how well our community supports our troops! Over the past eight seasons, the Warrior's jerseys have brought in $137,675 for our Warriors!
The second jersey auction for 2021 was held on July 10th as players, coaches and special guests wore PINK jerseys to benefit the fight against cancer thanks to our jersey sponsor Citizens Medical Center. The auction was a success bringing in $10,000 on the evening. Over the past eight seasons, the pink jerseys have brought in a total of $88,145 to go towards cancer awareness and the fight against cancer!
Our final jersey auction was held on July 24th with players and coaches wearing PURPLE jerseys to benefit the Alzheimer's Association sponsored by Comfort Keepers and Heritage Meat Company. Over the previous five seasons, the purple jerseys have brought in a total of $49,050 to go towards Alzheimer's research. In 2021, the jersey auction raised $7,000 for the Alzheimer's Association, bringing the six year total to $56,050.
The three special nights brought in $37,500, our second largest total ever (2019 $55,950) for these three organizations and really shows how our fans support these great causes. Our eight year total for all the jersey auctions totals $278,870. The Victoria Generals organization would like to thank everyone for their generosity and the Generals look forward to future jersey auctions to continue supporting these organizations.