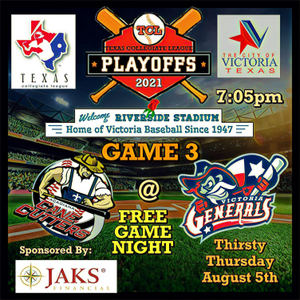 Generals Force Deciding Game Three Thursday
August 4. 2021- Victoria Generals' pitching allows a 5-2 win against the Acadiana Cane Cutters.
The Generals got the ball rolling in the 5th inning when Joshua Rodriguez was walked which allowed Bryce Holmes to score. Shane Podsednik was walked next, and Adam Becker was brought in for a run. Cameron Gibbons was hit by pitch and Rodriguez came in for the third run of the night. Becker came up the next inning and hit a double to center field that brought in Broch Holmes and Bryce Holmes.
The Acadiana Cane Cutters' starter Will Tynes was effective through the first four innings but could not record an out with the bases loaded. Tynes gave up three earned runs on one hit and three walks. Tynes also recorded five strikeouts and will receive the loss tonight. Jay Ward and Cole Payne tried to retire the rest of the Generals out of the bullpen. Ward pitched one inning giving up two earned runs on two hits and two walks. Payne went three innings allowing only one hit and recording two strikeouts.
The Cane Cutters' Nathan Carriere grounds into fielder's choice to third and Will Veillion scored. A second run was earned when Jerret McDonald singled on a fly ball to center field and Jack Schell scored.
Generals' starter Riley Egloff was able to get out of jams during his six innings of work. Egloff gave up eight hits, recorded six strikeouts, and did not allow a Cane Cutter run to score. Kamron Snodgrass came out of the bullpen trying to maintain the Generals' lead. Snodgrass went three innings giving up two earned runs on three hits, and recorded three strikeouts. Egloff received the win tonight.
Thursday night is the deciding game in the series to see who will play the Flying Chanclas in the TCL Championship on Saturday. Pack the house with another FREE TICKET NIGHT presented by Jaks Financial and THIRSTY THUSDAY with $1 draft beer on the Dornburg Party Deck. Gates open at 6PM with first pitch scheduled for 7:05.