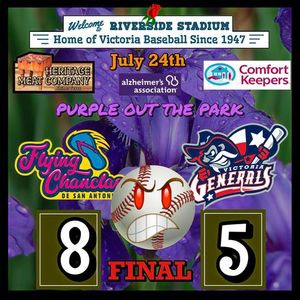 Victoria Generals Fall Short to San Antonio Flying Chanclas
July 24. 2021 –. Victoria Generals came in hot in the first few innings but ultimately lost in Game 2 against the Flying Chanclas.
The Generals' Cameron Gibbons got things going with a pop fly to right field that brought in Austin Ochoa. Bryce Holmes hit a two-run homer to left field which allowed Chris Kean to score. In the 3rd inning Generals took the lead when Adam Becker hit homerun to left field and Broch Holmes came in for the fifth run. The bats went silent for the rest of the night which led them to their downfall.
The San Antonio Flying Chanclas' starter Alec Martinez went five innings, giving up five runs, four earned, on four hits, and recorded four strikeouts. AG Ayala, Jarek Wells, and JT Moeller tried to keep the Chanclas lead out of the bullpen. Ayala went two innings giving up no earned runs and recording four strikeouts. Wells kept the Generals scoreless going one inning with one strikeout. Moeller went one inning, did not allow any hits, and recorded one strikeout.
The Chanclas tied up the game when Justin Thompson hit a homerun to left field that allowed Jonathan LaCourse and Jalen Battles to score. LaCourse's line drive hit to third base brought in Zac Vooletich. Ian Bailey scored on a passed ball. A line drive to right field by Cole Posey allowed the Chanclas to take the lead when Marcos Villegas and LaCourse scored. Posey comes in the 9th inning to hit a solo homer to left field.
Generals' starter Deryk Serbantez went four innings, giving up seven runs, five earned, on three hits, and recorded eight strikeouts. Out of the bullpen, Kamron Snodgrass and Josh Salinas tried to keep the Chanclas bats at bay. Snodgrass went three innings giving up only one hit and recording three strikeouts. Salinas went two innings giving up a home run and recording one strikeout.