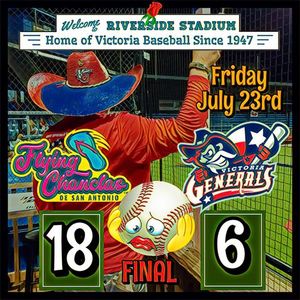 Flying Chanclas Score Early and Often in Defeating the Generals
July 23. 2021 – The Generals fell behind early and couldn't come back in an 18-6 loss to San Antonio Flying Chanclas in Game 1.
The Generals struggled to get their bats going in the first half of the game. Broch Holmes brought some hope to Riverside Stadium when he triples on a line drive to center field that allowed Bryce Holmes and Austin Ochoa. Cameron Gibbons followed it up with a ground out to third base and brought in Broch Holmes for the third run. In the 7th inning Gibbons comes back with a ground ball single to center field and Broch Holmes scored. A triple to center field by Joshua Rodriguez brought in Gibbons for a run. Sammy Diaz grounds out to second base and Rodriguez came in for the final run for the Generals.
Flying Chanclas' starter Kolby Lunsford received the win after he allowed seven hits and zero runs over four innings, striking out three and walking zero. Evan Maldonado, Cale Wagoner, Matt Sessler, and JT Moeller came in relief for Lunsford. Maldonado recorded two strikeouts and helped secure the win for the Chanclas.
The Chanclas came in swinging with a fly ball to center field by Jalen Battles then Cole Posey scored. Augie Ramirez homers on a fly ball to left field that brought in Battles and Justin Thompson. Ian Bailey tripled on a line drive to center field and Zac Vooletich scored. A double by Warren Laster brought in Bailey for the seventh run. Battles singled on a ground ball to left field that allowed Cole Posey to score. A line drive to left field by Marcos Villegas allowed Bailey to score. Laster scored when Posey was walked in a bases loaded situation. Justin Thompson flied out to center field and Cody Modgling scored after tagging up. Vooletich hit a ground ball and an error allowed Posey to score. Bailey hit a grand slam bringing in Battles, Ramirez and Vooletich. The final run of the night was earned when Villegas got out on a sacrifice fly to left field and Jarek Wells scored.
Generals' starter Reece Easterling received the loss after going three innings giving up seven hits and seven runs while striking out two. AJ Irvin, Chris Foster, Miles Clack, and Chris Kean came out of the bullpen in relief for Easterling. Irvin, Clack, and Kean recorded a total of seven strikeouts.
The Generals will be back in action tomorrow night with Purple Out the Park. The Generals will don their commemorative purple jerseys that will be auctioned off following the game. 100% of the money raised will go to the Alzheimer's Association. Gates open at 6pm with first pitch set for 7:05.