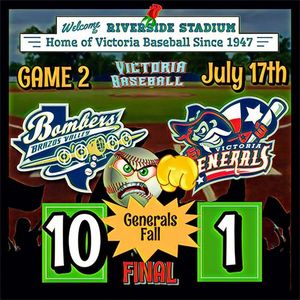 Generals Split Series with the Bombers
July 17. 2021 – The Generals bats went silent tonight as the Brazos Valley Bombers dominated the Generals by the score of 10-1.
The Generals started off the game with a single to center field by Adam Becker which allowed Cody Cleveland to score. Becker's hit brought in the only run for the night and Generals struggled to get things going for the rest of the game.
Brazos Valley Bombers' starter Carson Atwood went three innings giving up only one earned run on two hits and four strikeouts. In relief, Jake Strmiska, Issac Crabb, Dylan Johnson, and John Cheatwood kept the Generals from scoring. Strimska pitched one inning, giving up two hits with one strikeout. Crabb had three innings of work for Brazos Valley recording three strikeouts and only giving up two hits. Johnson and Cheatwood finished the game for the Bombers, going a combined two innings with five strikeouts and giving up no hits. Crabb received the win for the Bombers.
The Bombers' Brett Squires singles on a fly ball to left field that brought in Daniel Altman for the first run. Kalae Harrison followed it up with a ground out to first base and Squires came in for the next run. In the 2nd inning Drew Collins hits a two-run homer that allowed Trevor Davis to score. In the same inning Grayson Tatrow hit a two-run homer to center field that brought in Shelby Becker. Squires doubled on a hard ground ball to right field that allowed Becker, Tatrow, and Troy Viola to score. The final run of the night was earned in the 9th inning when Hudson Polk doubles on a line drive and Harrison came in.
Generals' starter Brett Brown went one and one-third innings giving up four earned runs on four hits, including two home runs and four walks. Brown also recorded one strikeout. Out of the bullpen, Chris Foster, Miles Clack, Chris Kean, and Kamron Snodgrass tried to prevent more Bomber runs. Foster went three and two-thirds scoreless innings, recording five strikeouts and giving up only one walk. Clack attempted to keep the Bombers at bay but was unsuccessful going one and one-third innings, giving up three earned runs on four hits, and recorded two strikeouts. Kean and Snodgrass closed the game out for the Generals going two and two-thirds innings, combined, with five strikeouts and only one earned run on one hit. Brown received the loss for the Generals.
The Generals hit the road on Tuesday to take on the Acadiana Cane Cutters in a two-game series before returning to Riverside Stadium on Friday and Saturday versus the San Antonio Flying Chanclas. Saturday night will be Purple Out the Park with a jersey auction with 100% of the money raised going to the Alzheimer's Association.