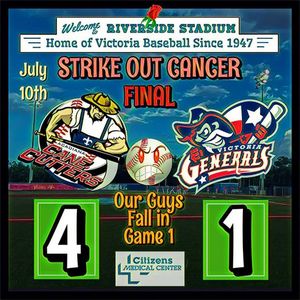 Generals fall short against Cane Cutters in Game 1
July 10. 2021 – The Generals' lack of hits causes them to fall short to Cane Cutter in a 4-1 loss.
The Generals managed to get runners on base but were unable to score during the first three innings. In the 4th inning Michael Fontenot singles on ground ball to center field and Austin Ochoa brings in a run. The Generals' bats went quiet for the rest of the night.
Cane Cutters' starter Marcus Mott received the win going four innings, recording four strikeouts, and an unearned run. Nick Hill, Cy Fontenot, and Jay Ward came in relief for Mott. Hill, Fontenot, and Ward recorded a combined four strikeouts and no earned runs to secure the win for the Cane Cutters.
The Cane Cutters came in the 3rd inning with Conor Higgs and Ethan Lege both hitting solo homers. The team came back in the 5th inning with Jack Schell hitting a single line drive to right field that allowed Higgs and Matt Abshire to give the team a total of four runs.
Generals' starter Reece Easterling received the loss after going five innings giving up all of the Cane Cutters' four runs. Easterling also recorded three strikeouts. Deryk Serbantez came out of the bullpen for the Generals. Serbantez finished the game, going four innings, recording seven strikeouts, and giving up no earned runs.
The Generals will wrap up the series with the Cane Cutters Sunday night with Bark at the Park presented by Northside Ranch Pet and Garden Center. Bring your dog to the park and receive FREE admission. Gates open at 6:00 PM with first pitch set for 7:05.