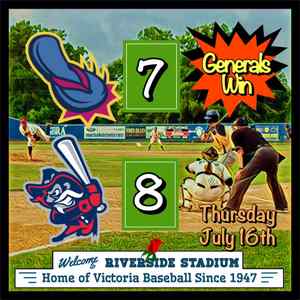 Generals Bounce Back in Walk-Off Fashion
July 16, 2020 - The Victoria Generals grabbed a hard-fought 8 to 7 victory against the San Antonio Flying Chanclas on Thursday night.
Zach Smith started the ball game on the hill for the Generals tonight going four innings, giving up two runs, only one earned. Following Smith. Chris Foster, Jonathan Jones, Jack Engelmann and Zac Leigh ended regulation. They gave up a combined six runs, walking four, and striking out 14.
The Generals took the lead in the first inning thanks to a Jonathan Tapia sac-fly. The bats went silent for the Generals until the 5th where they were able to scratch for one run and tie the game at that point.
The San Antonio Flying Chanclas responded with a huge three spot to retake the lead in the 6th inning 5-2, thanks to Kyte McDonald's homerun to left field.
The Generals fought hard in the 8th , clawing for two runs to bring the score to 5-4 due to RBI rips by Jose Diaz and Steven Bonuz. Then in the 9th, the NCAA Division II player of the year, Josh Elvir stepped to the plate and showed why he is so highly touted: tying the game up at five a piece after his frozen rope single to center field.
Both teams were unable to score in the 10th inning. In the 11th, Dalton Aspholm struggled to find the strike zone early, giving up two runs.
The Generals continued their magical night, however unfortunate for the Flying Chanclas. Hits by Elivr and Ambren Voltik tied the game up at seven. Then Jonathan Tapia's mythical return grew legendary when he scorched a line drive just above the Flying Chanclas shortstop Jalen Battles outstretched glove; scoring Josh Elvir to win the game 8 to 7!
The Generals will be on the road starting tomorrow Friday, July, 17th when they head to San Antonio for another three game set with the Flying Chanclas. The Generals will be back at Riverside Stadium on Tuesday, July, 21st when they take on the Round Rock Hairy Men