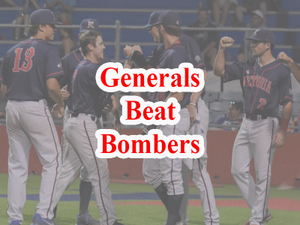 Victoria, TX – The final game of the regular season had a lot on the line for the two teams. The Generals and the Bombers battled in a game that decided the champion of the first half of the regular season. The Generals came out victorious in game two of the series, but both teams have a few games lead over the other Texas Collegiate teams.
The Generals jumped to an early lead in the bottom of the first when Nick Barnes hit a two run home run for his first of the season. The defense of Victoria then held the Bombers once again in the top of the second, and added a run to their lead in the bottom half of the inning. The Bombers did not score a run until the fifth inning, but the Generals answered back with a run of their own in the latter half of the inning. The Generals extended their lead in the next inning as they started to pull away from the Bombers. The game, however, was not quite over. The Bombers began to storm back as they scored three runs in the eighth inning to pull within three runs. The Generals were able to hold the opposition off though.
Offensively, the Generals recorded 10 hits on the night. Jake Miller had a perfect night at the plate going 4 for 4. Miller also batted in two RBI's during his plate appearances. Catcher Luis Olivier went 3 for 5, and came around to score one time. Nick Barnes went 1 for 2, while recording his first home run of the season for the Generals.
Pedro Garcia got the win on the mound for Victoria in game 2. Garcia only allowed three hits and one run in his 7 inning outing. He also struck out four batters, and walked four Bombers. Chris Fearon came in to relieve Pedro in the eighth inning. Fearon allowed two earned runs, but closed out the inning for the defense. Returning Generals pitcher Garrett Alexander came in to finish the game out in the 9th. Alexander struck out all three Bombers hitter to get the save.
The Texas Collegiate League's top players will be back in action for the 2018 All-Star game on July 4th. This years game will be hosted by Victoria, and will have the league's top players and prospects. The homerun derby starts at 6:05 pm, and first pitch will be at 7:05 pm at Riverside Stadium.