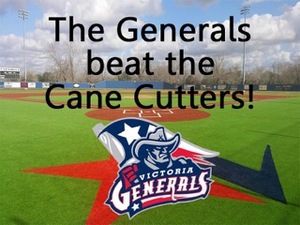 Generals Rally to Beat Cane Cutters
June 16, 2018 – Victoria Generals remain hot with a 5-4 victory tonight at the Acadiana Cane Cutters at Fabacher Field as they hit the road for a four game road trip. The Generals fell behind early but hung in there with clutch hitting late to snatch the victory.
Victoria native Jonathan Jimenez from the University of Houston-Victoria got the start for the Generals and would run into a little trouble early in the first inning with a lead-off walk and a couple errors by the infield to fall behind 2-0 after one.
Generals would get things going in the top of the third as the Cane Cutters pitcher would run into control problems with a lead-off walk to Jake Miller, an error by the short stop allowing Hutcheson to reach, scoring Miller. After a balk would move Hutcheson to second, Michael Williams would draw a walk putting runners at first and second. Hutcheson and Williams would pull off a double steal advancing the runners to second and third with two outs. Luis Olivier would draw a walk loading up the bases. Zach Howard would single scoring Hutcheson but Williams would be thrown out at the plate as the Generals would even the score at 2-2.
The Cane Cutters would retake the lead on a pair of singles and a pair of walks from Jimenez to lead 3-2 as the teams headed to the top of the fourth. O'Neal Lochridge would reach on an error, Miller would single and Lochridge would later score on a passed ball to even the score one again at 3-3.
The Generals would take advantage of relief pitching in the top of the sixth as Lochridge would reach on an error and later score on a Ramos strikeout passed ball that would also put Ramos on first and run the score even at 4-4. Williams would single moving Ramos to third and would later score on a wild pitch as the Generals would take a 5-4 lead.
Reliever Michael Slaten would pitch three scoreless inning for the Generals, striking out seven Cane Cutters before being replaced by closer Garrett Alexander. Alexander would be true to form coming in for the ninth, striking out the first two batters he face and getting the final out on a ground ball to first. Slaten got the win while Alexander got his fourth save in a little over a week.
The Generals will wrap up the series with the Cane Cutters tomorrow before finishing up their four game road trip against the Twins in Texarkana on Monday and Tuesday.
Catch the Generals back in action on Wednesday, June 20th at Riverside Stadium for $1 Dog Night presented by Local Pet. The Generals will be taking on the Texas Marshals in a two-game series, wrapping up on Thirsty Thursday with $1 draft beer all game long on the Compadres Party Deck.