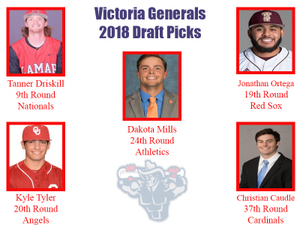 June 6, 2018 –The Victoria Generals had five players selected in the 2018 Major League Baseball Draft that was held over the past two days. Former Generals Tanner Driskill, Jonathan Ortega, Kyle Tyler, Dakota Mills and Christian Caudle were selected by Major League Baseball teams.
Right-handed pitcher Tanner Driskill was selected on day one of the draft in the 9th round (pick 281) by the Washington Nationals. Driskill wrapped up his senior season at Lamar University where he compiled a 6-5 record with a 4.00 ERA in 81 innings. Driskill played for the Victoria Generals in 2016, appeared in 13 games, compiling a 5-3 record with 51 strikeouts, five walks, and a 3.67 ERA in 56.1 innings. Driskill, a Round Rock, TX native, played for Weatherford College before transferring to Lamar University.
Victoria native Jonathan Ortega was selected in the 19th round (pick 580) today by the Boston Red Sox. Ortega, a Victoria East high School standout, just completed his junior campaign at Texas State University appearing in 59 games, with 14 doubles, five home runs, 35 RBI's, 13 stolen bases while compiling a .280 batting average. Ortega played for the Generals in the second half of the 2017 season.
Right-handed pitcher Kyle Tyler was selected in the 20th round (pick 601) by the Los Angeles Angels. Tyler just completed his junior season at the University of Oklahoma, compiling a 6-2 record while posting a 2.97 ERA on the season. Tyler appeared in 21 games (nine starts), with 84 strikeouts in 66.2 innings. Tyler was the Gatorade Player of the Year for Oklahoma out of high school in 2015. Tyler appeared in several games for the Generals during the 2016 season before having to leave due to a back injury.
Right-handed pitcher Dakota Mills was selected in the 24th round (pick 713) by the Oakland Athletics. Mills just wrapped up his senior season at Sam Houston State University, compiling a 3-2 record while posting a 3.04 ERA on the season. Mills appeared in 33 games (two starts) striking out 74 with 12 walks in 53.1 innings of work. Mills played for the Generals for three seasons (2014-2016) and is currently second on the Generals all-time strikeout list with 75 strikeouts (Michael Oros-123 strikeouts)
Catcher Christian Caudle was selected in the 37th round (pick 1113) by the St Louis Cardinals. Caudle just wrapped up his senior season at Texas A&M-Kingsville, where he has been selected to the All-Lone Star Conference First Team for the past three seasons. Caudle compiled the top batting average in the Lone Star Conference (.384) during his junior season in 2017. Caudle played for the Generals from 2015-2017, appearing in 91 during those three seasons
The Generals have had over 40 players selected in the MLB draft over the past ten seasons including David Rollins who made his major league debut with the Seattle Mariners and Glen Sparkman who debuted with the Toronto Blue Jays.