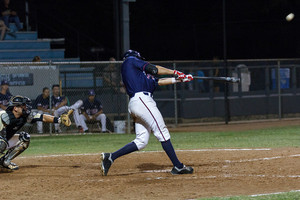 The Victoria Generals started their four-game road trip on a sour note, dropping a 10-5 decision to the East Texas Pump Jacks in Kilgore on Thursday night. The Generals pitching staff allowed 16 walks and three wild pitches on the night to go along with three passed balls by catcher Blue Hybner.
The Generals looked good out of the gate as Eric Weiss singled home Jude Vidrine in the top of the first to give the Generals a 1-0 lead.
Generals starting pitcher Bryce Zak's command struggles continued on Thursday night as he allowed five walks in four innings. The Pump Jacks tied the game in the bottom half of the first on a wild pitch by Zak.
The Generals posted three runs in the top of the third inning. Billy Richard led off with a triple and was driven home on an RBI single by Chad Kruse. Vidrine then hit his second home run of the season, a two run shot to give the Generals a 4-1 lead.
Things got ugly for the Generals in the bottom half of the third inning. Zak walked the lead off hitter, Kirby Pellant, who would later score on an error by Richard in centerfield.
In the bottom of the fifth inning, Corey Holmes came onto pitch and allowed three walks and a hit a batter, cutting the Generals lead to 4-3. Jake McMurtry came on in relief and did not fare much better. McMurtry walked two and allowed two runs on three hits across one inning of work.
The pitching carousel continued as Daniel Tunchez came into the ballgame and walked four as the Pump Jacks took an 8-4 lead.
Kyle Chaskin pitched the final two innings and allowed two runs on two hits with two walks, making the score 10-4.
The Generals were able to add another run in the top of the ninth on a sacrifice by Weiss to score Richard to make the final score 10-5.
Despite outhitting the Pump Jacks 14-6, the Generals offense was unable to come up with big hits with runners in scoring position for much of the night as they left nine batters on base.
Weiss, Kruse, and Brandon Tierney each had three hits on the night as Vidrine and Richard had two apiece as well.
The Pump Jacks improved their league-leading record to 14-3 as the Generals fell to 10-6. The two teams will meet again for game two of the series on Friday night at 7:05pm at Driller Park in Kilgore.
Box Score: http://tcl-generals.bbstats.pointstreak.com/boxscore.html?gameid=91255