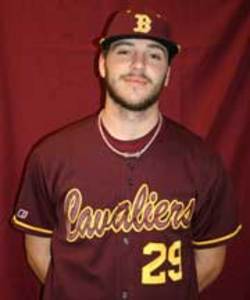 With the Texas Collegiate League season just underway, the Victoria Generals are currently 5-4 and sitting in third place in the league standings. As more and more new players continue to make their season debuts for the Generals, the team has added two new names to that list. Infielder Michael McGraw and catcher Santiago Ruiz have been added to the roster to help the Generals out with their depth in the infield and behind the plate.
McGraw, who just completed his freshman year at Bossier Parish Community College in Louisiana, has signed to play at the University of Missouri next season.
"Michael is a very talented ballplayer that will be able to help our club out both offensively and defensively," commented Blake Koch, Victoria's general manager.
The 6'3", 185-pound McGraw hit .323 as a freshman this year with 11 doubles, two triples, 10 home runs, 39 runs scored, and 43 RBIs.
McGraw will help fill some holes that were left on the Generals roster after a few key players that the Generals had signed went down with injuries and were unable to make it to Victoria this summer.
"We had about three guys that we had signed go down with injuries during the spring semester, so we were looking for someone to fill in those gaps," stated Koch. "I think that we got really luck to find a great player like Michael still available to pick up this late."
After Generals catcher Daniel Garcia went down with a broken ankle last weekend, the Generals started searching for a replacement and were able to land Santiago Ruiz, a junior from Texas A&M University – Corpus Christi.
"Santiago was another great pickup for us," commented Koch. "He's known for being one of the best defensive catchers in the Southland Conference."
Ruiz hit .311 for the Islanders as a junior this year with two doubles, a triple, eight runs scored and 10 RBIs. Ruiz made only two errors in the field all season long.
Ruiz transferred to A&M Corpus Christi following two seasons at Blinn College where he hit .340 as a freshman and .380 as a sophomore.
The Generals will take on the Brazos Valley Bombers tonight at 7:05pm at Riverside Stadium in Victoria. Tonight is Little League Night at the Generals game. All little leaguers in uniform will get in for free.
For news, merchandise, ticket information, and schedules, visit the Generals team store located at 3708 North Navarro, Suite A in the Landmark Shopping center, visit
www.VictoriaGenerals.com
, or call 361-485-9522.