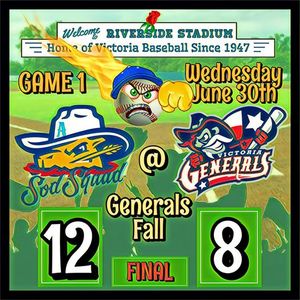 Late Score Costs Generals Against Sod Squad
June 30. 2021 – Victoria Generals lost the lead late in a 12-8 defeat to Amarillo Sod Squad. Generals 5-2 lead early was not enough as control problems would lead to late runs for the Sod Squad.
The Generals managed to get the ball in play during the first inning with a single by Austin Ochoa to center field that allowed Travis Faix to score. Samuel Benjamin doubles on a fly ball to left field that brings in an additional run by Ochoa that put Generals in the lead with 3 runs. On a sacrifice fly to center field by Adam Becker a fourth run was scored by Cristian Cienfuegos. In the bottom of the 3rd, Benjamin scores on a wild pitch. Benjamin scores another run on a passed ball in the 5th inning. Ochoa scores on a line drive to right field by Benjamin and ties up the game. The Generals earned their final run in the 8th inning when Cienfuegos scored on a wild pitch.
Jack Stroud started for the Sod Squad, giving five earned runs on four hits, and recorded six strikeouts. Out of the bullpen, Jose Visaez, Landry Kyle, Carson Pierce, and Marco Rios came in to pitch for Amarillo. Visaez received the win after going two and two-thirds innings with no earned runs and four strikeouts. Kyle, Pierce, and Rios all sustain the lead, only allowing a combined two earned runs on three hits and three strikeouts in their four combined innings of work.
The Sod Squad came in hot with a line drive to right field by CJ Horn that brought in two runs. Bats went quiet for Amarillo, but they managed to come back in the 5th inning. Jordan Ku walks and Horn scores. A single line drive to left field by Thomas Green brings in an additional run from Karl Koerper. Sam Tormos scores on a wild pitch in the 6th inning. The Sod Squad tie up the game with a solo homer by Green. They take the lead when Colton Olasin doubles on a line drive to left field and Cade Parker scores. Bases were loaded and Olasin brought in Enrique Porchas with a walk. In the 9th Porchas triples on a line drive to right field bringing in Matthew Maloney and Ku. Amarillo earned their final run on a double by Cameron Mahaffy that brought in Green.
Brett Brown was the starting pitcher for the Generals and produced four solid innings, giving up only three earned runs on four hits with four strikeouts. The Generals pitching staff was then left to finish the game. Javier Acevedo, Derrick Curry, Gavi Coldiron, Josh Salinas, and Miles Clack came in relief from the bullpen. Acevedo did not record an out in his outing and allowed one run with three walks. Curry tried to get out of a bases-loaded jam and successfully did, only giving up one earned run but not the Generals lead. Curry also recorded three strikeouts in his one and two-thirds innings. Coldiron came on the mound to relieve Curry and ultimately gave up the lead. Coldiron received the loss after going two innings with three earned runs and four strikeouts. Salinas and Clack went a combined one and a third innings with a pair of strikeouts and gave up four earned runs to push the Sod Squad to their victory.
The Generals will wrap up the series with the Sod Squad Thursday night with a double barrel promotion with Diamonds on the Diamond and Thirsty Thursday! Come out early for your chance to win a pair of diamond ear rings as well as other great prizes.