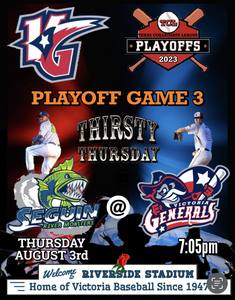 Electric Performance Powers Generals to 12-9 Win Forcing Game 3
August 2, 2023 – The Victoria Generals faced off against the Seguin River Monsters in Game 2 of the semifinals where the Generals would survive 12-9 in a win or go home game that forced Game 3. After a tough loss last night 10-3, the Generals' offense came out swinging early and now have a chance to clinch the final spot in the championship game.
On the mound for the Generals was UTSA RHP Braylon Owens who was tonight's winning pitcher working four innings allowing five earned runs off five hits with three walks and three strikeouts. UTSA RHP Cole Brady would pitch in relief of Owens and throw 0.2 innings allowing one earned run off one hit with two walks and two strikeouts. Murray State College LHP Ryan Dugas would then pitch 3.1 innings allowing three runs off five hits throwing three strikeouts. Kansas Wesleyan RHP KT Gearlds would get the nod to finish the game and earned the save with one scoreless inning allowing one hit with two strikeouts.
In the first inning, three straight walks were drawn by Texas State CF Damien Whitfield and LF Xavier Perez, as well as UT-Arlington 1B Tyce Armstrong that would set up Southeastern 3B Christopher Munoz to hit a 2-run double. Incarnate Word DH Rey Mendoza would then ground into an RBI fielder's choice, scoring Armstrong. In the second inning, Perez hit a grand slam over the LF fence scoring Blinn College C Matthew Whitting, Texas A&M-Corpus Christi 2B Drake Kerr, and Whitfield. Later, Mendoza would hit an RBI single driving in his second run of the night giving the Generals a 8-0 lead.
In the third inning, McNeese State SS Easton Dowell would be hit by a pitch and come around to score after a wild pitch. The Generals would add three runs in the sixth inning beginning with a Whitting walk. That allowed Perez to hit an RBI sacrifice fly, scoring Whitting. Kerr hit a single and scored after a wild pitch and Nicholls State 3B Gerardo Villareal would come across the plate from an error. Victoria would have eight hits and six errors and hang on to have a chance to punch a ticket to the 2023 Texas Collegiate League championship game.
The Generals will be back in action tomorrow night at Riverside Stadium versus the River Monsters with first pitch at 7:05 p.m.