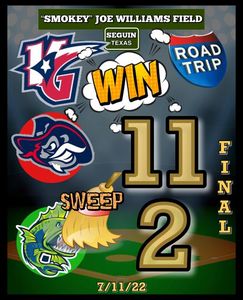 Generals Offense Continues to Shine in Fifth Straight Victory
July 11, 2022 – Generals start their five game road stretch in their second game of a two game series against the Seguin RIver Monsters. Generals are searching for their fifth straight win.
Generals started the offense with a few hits in the top of the first inning off Luke Negrete as Samuel Benjamin would get a leadoff single. Benjamin would steal second but would be thrown out running to third. Malachi Lott would hit a solo homerun the next swing to give the Generals an early lead in the game.
The River Monsters would answer back in their half of the first against Braylon Owens after Jimmy De Leon would be hit by a pitch and a single from Jose Gonzalez would reach base. Cam Dayton would hit a single to bring home De Leon to tie the game at one with the inning ending from Chris Kean throwing out an attempted steal at second.
The Generals would take the lead back in the top of the fourth. With two outs in the inning, Brandon Galindo would continue his hot week and hit a double. Chris Kean would take the bat next and hit an RBI single to bring Galindo home to take a 2-1 lead heading to the bottom of the fourth.
Generals offense continued to produce runs in the top of the fifth after a two out triple from Adam Becker who would be brought home from a single from Chase Sanguinetti. Negrete would walk both Reed Spenrath and Cameron Nickens to load the bases, but would end off a popup from Galindo. The Generals extended their lead to 3-1.
The River Monsters made a pitching change to Caleb Vuono in the top of the sixth ending Negrete's night with five innings, three earned runs, four strikeouts, four walks, and seven hits allowed.
Vuono would see some issues in the top of the seventh as Becker would hit a leadoff single and another single from Sanguinetti. Spenrath would hit a single to bring home Becker, but Sanguinetti would be thrown out at third. Nickens and Galindo both get on base to load the bases for Kean. Kean would take advantage, hitting another RBI single with bases still loaded for Sean Curtis. Curtis would lay a bunt getting a force out at home with bases still loaded. Thanks to a wild pitch, Galindo would run home to score the third run of the inning.
The Generals made a pitching change to Patrick Dunn in the bottom of the seventh ending Owens's night with six innings, five strikeouts, one earned run, one walk, and six hits allowed. River Monsters took advantage of the change as Dunn would hit his first batter faced in Jacob Elizondo. Elizondo would steal second and advance to third on a wild pitch, and would score after De Leon reached first on an error. De Leon would be thrown out on an attempted steal to second. Dayton would walk and Rey Mendoza would hit a double to get Dayton to third. Dunn would walk Trevino loading the bases before striking out Jacob Ruiz to end the inning with bases loaded, only allowing one run. Score heading to the top of the eighth would be 6-2.
River Monsters changed pitchers heading to the top of the eighth to Uli Tovar ending Vuono's night with two innings, two earned runs, three runs total, two strikeouts, one walks, and five hits allowed.
River Monsters made another change to Reed Hensley in the top of the ninth hoping to get the Generals out without any runs to keep their offense in the game. After a leadoff single from Nickens, Hensley would strike out Galindo and Kean before giving up another single to Curtis with Nickens advancing to third. Benjamin would draw a walk with a full count bringing up Lott who would draw a walk followed by a grand slam by Becker to head to the bottom of the ninth with a score of 11-2. Dunn entered the bottom of the ninth with a nine point lead to finish the game with a final score of 11-2. Generals will win both games against the River Monsters and win their fifth straight game.
The Generals will go to Baton Rouge to take on the Rougarou tomorrow night and Wednesday night before ending their road stretch against the Cane Cutters on Friday. Generals return home against the Bombers on Saturday for Strike Out Cancer Jersey Auction presented by Citizen and Free Ticket Night thanks to South Star Wealth Management.