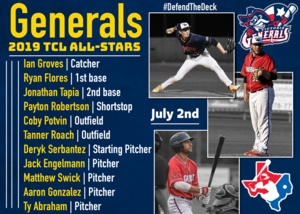 Eleven Generals Selected to the TCL All-Star Game
07/01/19 – The Victoria Generals will have a dominate presence as they take the field in Brazos Valley tomorrow night. Seven starters were selected including the starting pitcher Deryk Serbantez while four will play as reserves.
The Generals selected as starters include: Catcher Ian Groves, first base Ryan Flores, second base Jonathan Tapia, short stop Payton Robertson, outfielders Coby Potvin and Tanner Roach and Starting Pitcher Deryk Serbantez. Reserves include pitchers Jack Engelmann, Matthew Swick, Aaron Gonzalez and Ty Abraham.
The Home Run Derby will take place before the All-Star Game that will feature the Generals representative and TCL home run leader Ryan Flores competing against Rougarou Logan LeJeune, Bombers Bryant Shellenbarger, Twins Lee Thomas and Cane Cutters Tremaine Spears.
The Generals will take the field as Team Champions with the Acadiana Cane Cutters playing against Team Legends comprised of the Brazos Valley Bombers, Texarkana Twins and the Baton Rouge Rougarou. The Generals will don their dark blue jerseys with grey pants.
Texas Collegiate League All-Star Game will be held at Travis Field in Bryan, Texas. Gates open at 5:15 with an autograph session followed by the home run derby at 5:55 and the All-Star Game first pitch at 7:05.
The Generals return home for a four-game home stand beginning on Friday July 5th with two against the Baton Rouge Rougarou and wrapping up with a pair against the Texarkana Twins. Saturday night will be a Free Ticket Night for Purple Out the Park with a jersey auction following the game with all money raised going to the Alzheimer's Association. Sunday will be the return of Diamonds on the Diamond presented by Deutsch and Deutsch and wrapping up on Monday with another Free Ticket Night presented by TDECU.